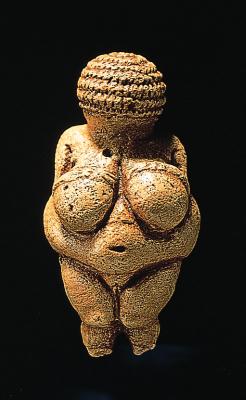 Sadly, if we are to be really honest with ourselves, most women want to lose weight for esthetic reasons. It's been thousands of years since a truly fat woman was considered beautiful. The picture above is of the "Venus of Willendorf", a statue that was carved between 22,000-20,000 B.C. It represents what was the ideal female figure: voluptuous and fertile.
Speed ahead several tens of thousands of years, and here's what today's magazines tell us we should look like:
I don't find either image particularly attractive. What I do find worrisome is how the Venuses amongst us are now
automatically
seen as unhealthy while other women are seen as healthy, simply because they are slim (if not anorexic). This attitude opens the door to eating disorders, self-flagellation (I only lost a pound this week--I'm a failure), yo-yo dieting and ultimately severe damage to one's metabolism and health in general.
Let's be honest: what would you prefer? Being skinny and unhealthy or being 10 pounds overweight (and who decides that, anyway?) and in great shape? How much would you give up to "look good", wear a size 4, or proudly wear a bikini?
Why are you going to the gym? Honestly? What if you were guaranteed to
never
get rid of your batwings, or flabby stomach? Would you still go to the gym? What if you never lost that last ten pounds? Would you still go to the gym, would you still try to eat healthy foods?
Diane at Fit to the Finish recently asked if you can be obese and healthy. I think the answer is obvious: if you're eating junk food in front of the TV and can't be bothered or aren't even able to walk down to the mailbox, you're unhealthy. But what if you exercise moderately, but regularly and eat healthy, unprocessed foods? You could still be "overweight" (again I ask, by whose standards?), though I somehow doubt you'd be obese. By many other measures, you could be quite healthy (BP, cholesterol, etc.).
And that's where the ac-CENT on the wrong syl-LABLE comes in. It's time to take the accent off weight and pounds (kilos) lost and put it where it belongs: on eating healthy foods, on enjoying (and not fearing) a wide variety of foods and on exercising to the best of our ability on a regular, sustainable, life-long basis rather than going the "biggest loser" route (which can never last a lifetime unless you're Gillian Michaels, who's making a fortune off browbeating people into obedience).
But that's so boring.