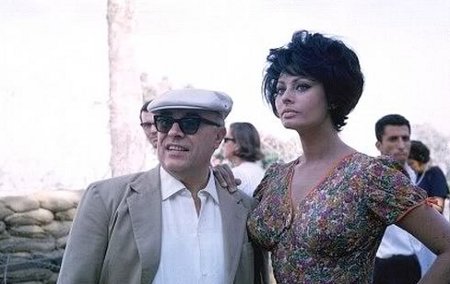 A photo of Sophia Loren with husband Carlo Ponti. Source: guerraeterna.com


Recently, both
Debra
and
Dr. Sharma
have been using the word "obesities" rather than "obesity" to illustrate the fact that overweight can be attributed to a number of different factors (not to mention the fact that living with a weight that is "over" what is conventionally deemed to be normal is not necessarily a "bad" or "unhealthy" state, but that's another post for another day).
While I believe that this is a real step forward in understanding this vastly complicated issue, I believe that this complexity goes even further. As I read the blogs of people living with overweight (whether they are "fighting" it, accepting it or maintaining a thinner outer shell), I am constantly struck by the huge difference in how men and women experience and react to their weight.
On a physiological level, body fat is completely different ball game for men and women. While a more or less "average" man can live comfortably with 17% body fat, an elite woman athlete (someone who is far from "average") may have 20% body fat, and average woman can easily carry 25% body fat without being considered "fat". While an elite male athlete can have as little as 3-5% body fat, a woman with that level of fat would be seriously anorexic, if not already dead.
Putting aside the issue of polycysitic ovarian syndrome which causes an excess of fat and a drop in fertility, women need fat (and certainly a higher level of fat than men) to be fertile. I believe, therefore, that the female body is much more recalcitrant to losing fat than the male body and will "fight" (if you'll excuse the expression) much harder to regain it than a man's body will. Recently, my husband lost a small amount of weight. He did it by tweaking his eating habits in such a minor way that no one in the family noticed. He did not increase his exercise. I asked him recently if he'd lost any more weight and he told me that, no, his weight has remained stable. Now, ask any woman you know how she managed to lose even a few pounds (AND KEEP THEM OFF) and she will produce a list of rules that she follows to the letter, perhaps a food diary, an exercise regimen, a calorie counter (in book form or on the Internet), the latest book on weight loss that's changed her life, her WW membership card...And then she'll tell you that it's a constant battle that she wages literally minute by minute.
Now, ask a man why he has become overweight. Some may actually admit to psychological factors but most will merely shrug their shoulders and mutter something about a couple of extra beers and the fact that they stopped playing sports once they left school. Most don't feel particularly unattractive due to that extra weight (generally, extra poundage has much less of an effect on a man's love life than a woman's) and will probably take no action unless advised to do so by their doctor (and even then). Ask a woman about her weight and she will pour out her heart about her binge eating, addiction to sugar/junk food, inability to identify the "full" signal, need to drown her sorrows in a bag of chips or a pan of brownies, lack of "willpower"...
So please, let's add gender to the mix and not close our eyes to its effect on weight management.